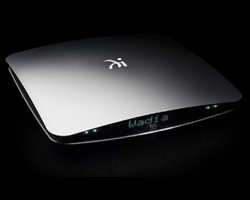 Intuition 01
Wadia has advanced its tradition of progressive technology and industrial design, to deliver a product with the utmost in performance and aesthetics while also being environmentally conscious. Intuition focuses on the digital inputs, with 192 kHz/24 bit resolution for Coax, optical and AES and 384 kHz/32 bit via USB. There are also two analog inputs. At the heart of the digital decoding is a high resolution, 32 bit AD/DA digital preamp with a 1.5 MHz sampling frequency. The 350 watt, high efficiency power amplifier is capable of driving any loudspeaker. Its design is proudly made in Italy.
High power output and excellent current delivery
High resolution USB input: 384 kHz/32 bit
Native DSD playback via USB
The Intuition 01 utilizes an innovative implementation of Wadia's celebrated Digimaster algorithm, the Delta-SigMaster (the original Digimaster was a groundbreaking design created over two decades ago). Delta-SigMaster is a 1.536 MHz upsampling algorithm (FIR 1.200 taps) far superior to standard industry practices, as well as the previous Wadia Delta-Sigma implementation. The ESS 9018 SabreDAC provides the decoding horsepower delivering effortless musical performance. Technology, musicality and stunning design combined in a component destined to become an instant classic: Intuition by Wadia.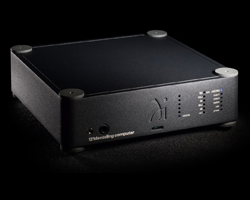 121
The Wadia 121 decoding computer is a high performance DAC/digital preamplifier with a complete set of digital inputs, balanced analog outputs, digital volume control, and a headphone output section. Just connect your iTransport, Computer, Streaming Audio source, or any other digital source and experience exceptional audiophile quality sound.
Audio signals are processed using Wadia's DigiMaster™ patented up sampling and filtering technology. The Wadia 121 decoding computer also features a clock linked asynchronous USB input for jitter free playback of music from your computer. All inputs including USB accept up to 24-bit/192kHz input data rates. The Wadia 121 decoding computer provides true balanced and single ended analog outputs. An exceptional headphone amplifier section delivers an unsurpassed personal listening experience.
32-bit/1.4MHz up sampling using Wadia's proprietary DigiMaster algorithm and filtering technology
All inputs accept up to 24-bit/192kHz input data rates
Asynchronous USB input
Wadia DirectConnect analog output with 32-bit Digital Volume Control
Digital Inputs: AES/EBU (XLR), Coaxial (RCA & BNC), Toslink Optical, USB B
Analog Outputs: one pair balanced (XLR), one pair unbalanced (RCA)
Analog output levels are fully adjustable to match system sensitivity
Single ended and balanced analog outputs can be used simultaneously
Headphone output stage utilizes SwiftCurrent technology and dedicated output amplifiers to drive almost any headphone
Full featured aluminum IR remote control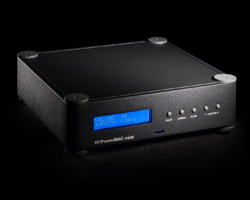 151
The Wadia 151 PowerDAC mini is a sophisticated combination of high performance DAC, surprisingly robust amplifier, and plenty of inputs for today's digital sources. With a nod to Wadia's original Reference PowerDAC, the 151 uses a scaled-down version of proprietary Wadia DigiMaster, and DirectConnect technologies for pristine reconstruction and amplification of all your digital sources.
Convergence Wadia style means USB, Toslink, and digital coaxial inputs provide connections for a computer, set-top boxes, streaming audio sources, plus your Wadia iTransport iPod dock.
The 151 PowerDAC mini defines the modern integrated amplifier. With an appealing small footprint, it is attractive and power efficient. Housed in a black aluminum chassis, the 151 PowerDAC mini will complement any contemporary media room, office, or dedicated music room.
Performance matters.
Coaxial and Toslink inputs accept data rates up to a 24-bit/192kHz. The USB input will receive data up to 24-bit/96kHz. Digital audio is fed directly into a powerful digital signal processor (DSP) and uses Wadia data sampling algorithms to up-sample all incoming data to 24-bit/384kHz. This technology reduces interpolation error and creates highly accurate representations of the original performance. Up-sampled and filtered data is incorporated into the digital amplifier stage and managed by the DirectConnect digital volume control. The result is a smooth analog waveform that your loudspeakers convert to an incredibly natural portrayal of musical instruments and voices. A trim, aluminum IR remote provides all of your input and volume control: when used with the Wadia iTransports, this remote also provides iPod/iPhone/iPad control for complete system integration.
Challenge your ideas about digital music. Connect the 151 to your favorite digital source or iTransport, and your favorite speakers. You will be surprised and delighted with the quality of your digital music. The 151 PowerDAC mini is an essential part of any 21st century digital music system.