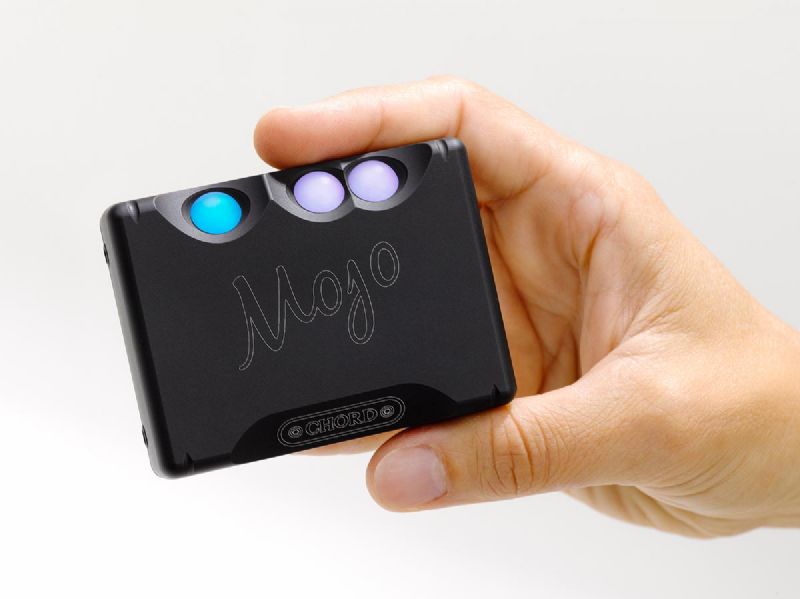 Mojo
Chord Electronics is proud to introduce Mojo, the ultimate DAC/Headphone Amplifier for your smartphone. Simply connect Mojo to your iPhone, Android phone, PC, or Mac, plug in your headphones and you can experience crystal clear audio the way you would hear it in the recording studio.
Mojo was designed for the music loving Smartphone owner.
It is powerful, but small and comfortable to carry.
It works with your iPhone or Android phone.
Mojo is also compatible with your Mac or PC
Mojo has three digital inputs - USB, Coaxial, and Optical.
Mojo charges in just 4 hours to provide up to 10 hours use.
You can use any pair of headphones with Mojo, from 4Ω to 800Ω.
With two 3.5mm analogue outputs you and a friend can listen too!
Mojo plays all files from 32kHz to 768kHz and even DSD 256.
Mojo is fully automatic and remembers its last used settings.
Its case is precision machined from a single solid block of aluminium.
Mojo is entirely designed and manufactured in Great Britain.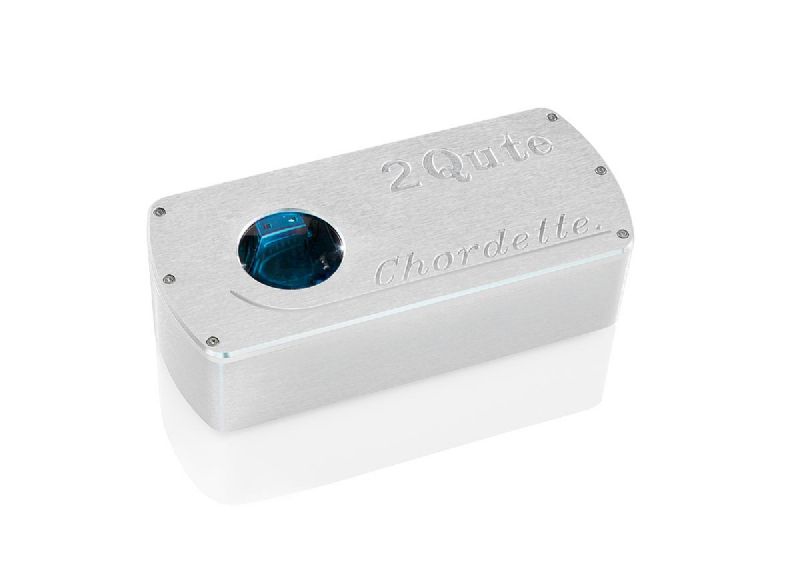 2Qute
The new 2Qute is a compact, affordable standalone DAC which combines two award-winning products in one: the revolutionary Hugo DAC/headphone amp and the class-leading Qute EX standalone DAC.
The new 2Qute takes the technology from What Hi-Fi? Sound and Vision's 2014 Best DAC - (Hugo) and adds it to What Hi-Fi? Sound and Vision's 2014 Best DAC £700 - £1,000 (Qute EX). The result is a new super-DAC for 2015 with class-leading specification, outstanding technical measurements and proven sonic performance.
Coax, optical and USB digital inputs with input switch
Galvanically isolated Class 2 USB input up to 384kHz
Driverless operation on Apple and Android devices; drivers supplied for Windows
Support for up to 32-bit/384kHz audio via coax and USB, and 24-bit/192kHz via optical
DSD64 supported on all inputs, DSD128 supported via coax or USB input (all via DoP)
Source and sample rate indication/illumination
12V 0.5A power supply provided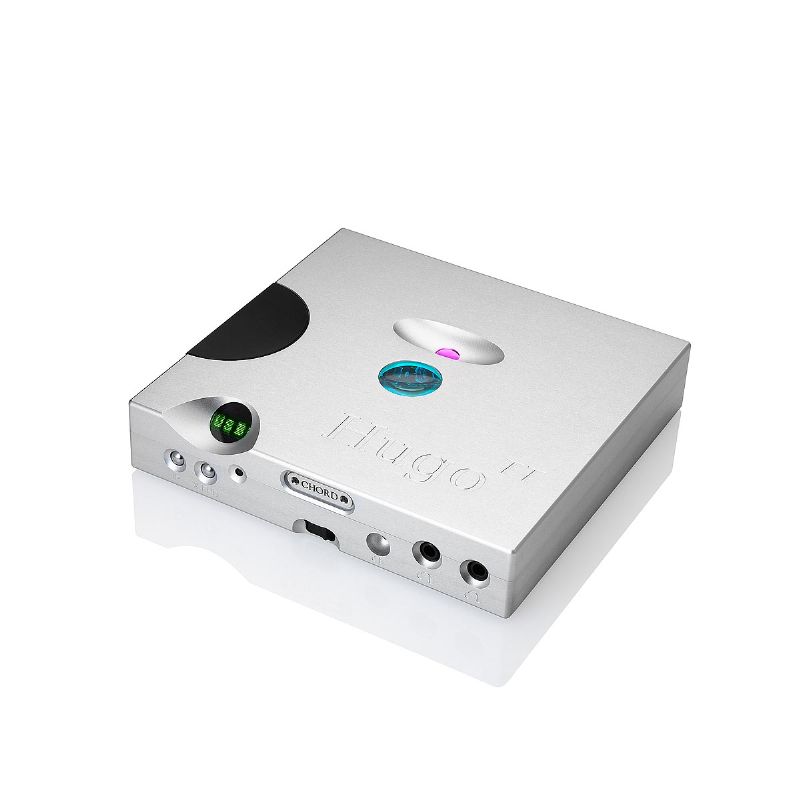 Hugo TT
With the new Hugo TT (Table Top) we've built on the extraordinary success of our genre-defining Hugo DAC/headphone amplifier. The new larger desktop-orientated device offers greater connectivity including a USB-B input, XLR outputs, two quarter inch headphone outputs, plus improved performance and features.
Compared to the more mobile Hugo, the Hugo TT gains a new larger chassis, remote control, an alphanumeric LED display with input/sample rate data, and improved sonic performance thanks to supercapacitors.
Remote control allowing input (source) selection and volume control
Alphanumeric LED display to show settings
Double the battery capacity of Hugo
10,000,000uF (microfarads) of supercapacitor energy storage
Fully balanced outputs using XLR connectors
Single-ended RCA outputs
BNC coaxial digital input
Optical TOSLink input
Full-sized B-type USB inputs for both SD USB and HD USB feeds
Full galvanic isolation on the HD USB input right up to 384kHz
Improved analogue stage output current for low distortion into low impedance loads
2x Quarter-inch jack headphone outputs
1x 3.5mm jack headphone output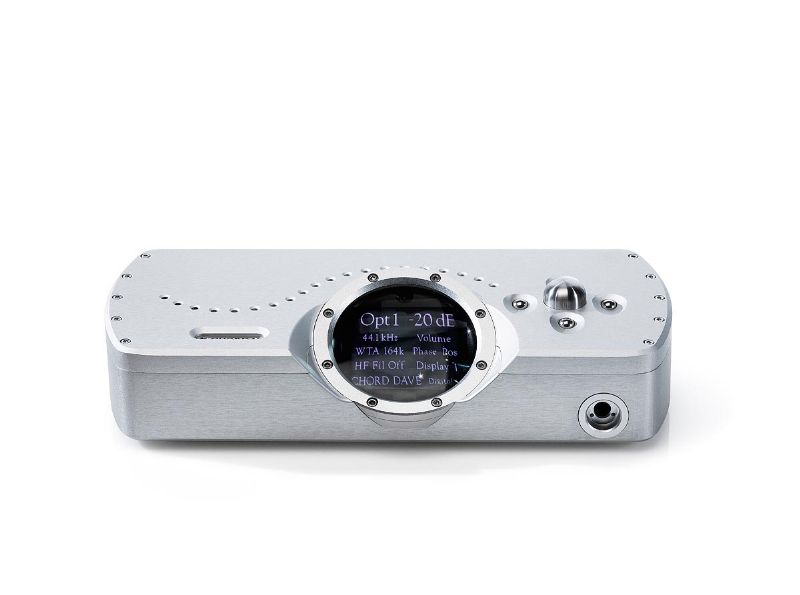 DAVE
Chord Electronics has launched its most advanced DAC to date. Given the acronym DAVE, Chord's latest-generation digital-to-analogue convertor features the very best conversion technology available, using proprietary techniques never seen before.
DAVE is a highly advanced reference-grade DAC, digital preamp and headphone amplifier. Hand-made in Kent, DAVE is based around a proprietary FPGA (Field Programmable Gate Array) offering more than ten times the program capacity of its predecessor.
At its heart lies a new (and in electronics terms, huge) LX75 version of the Spartan 6 Field Programmable Gate Array (FPGA). The FPGA's extraordinary capability enables a number of key sonic benefits including significantly improved timing and the best noise-shaper performance of any known DAC. DAVE's technology delivers music with unmatched reality and musicality, with an unrivalled timing response.