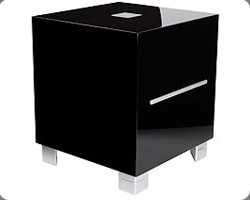 R-218
The R-218 employs a single down-firing 10" driver in a rigidly braced, high-gloss lacquered MDF cabinet, driven by a state-of-the-art digital amplifier. This combination produces remarkably powerful, fast and rhythmic bass while being extremely energy efficient. REL engineers chose a down-firing orientation as it allows for a simple and harmonious package or a very "quiet" visual design that is understated and elegant. Additionally, the down-firing design is classic REL design approach as for what it may lack sonically in projection of bass into the listening area and leading edge attack, it gives back much in terms of rich, warm room-filling bass.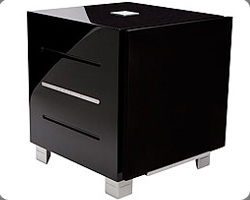 R-328
R-328 upgrades the performance of the R-218 through the use of both an active main drive unit and passive radiator. The main active driver is our much more potent Heavy 10™ -- a driver capable of handling sixty percent greater power and offering superior dynamics and speed. Added to this is a new lightweight, stiff carbon fibre 12" ABR passive radiator that is pitched quite low and thereby avoids the normal slow, plumy quality of typical ABR design. The additional driven surface area that predominantly comes into play at very low frequencies and high amplitudes has the effect of creating a variable cone surface capable of acting like a fast 10" driver for smaller more delicate material, then transforming into the equivalent of a 15" driver when demand calls for it. Internally, REL refers to this progressive driver size as VariCone™. Finally, due to the improved driver, amplifier power is upgraded to 350W.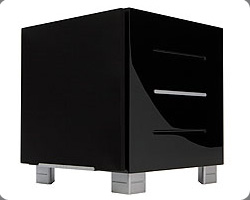 R-528
R-528 represents the final step-up in the Serie R range and, as is REL tradition, embodies the largest model with superlative depth, scale and slam. Numbers do not tell the full story here, as the weight and power of R-528 at full output is prodigious indeed. The R-528 receives a Heavy 12™ active bass-engine coupled to a VariCone™ 12" carbon Fibre ABR passive radiator producing the equivalent of a 16" driver in an even larger cabinet. The digital power amplifier employed produces an effortless 500 watts with the aforementioned components means the R-528 is capable of underpinning speakers with quality low-frequency extension that cost ten times its own price. The R-528 is all about speed and detail as reproduced by the Heavy 12™ active driver, which is actually the fastest diver in the series with the best impulse response. Naturally, its capabilities suggest careful pairing, although it is capable of filling even grand salons with powerful, clean, fast and extended deep bass.