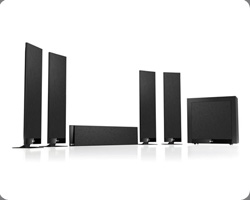 T305 System
For the full cinema-like experience, the ultimate T Series system has the best of everything: T301s all round, supported by the same discreet high performance subwoofer. However big your living area, it envelopes you in an expansive, richly textured sound picture that brings a movie to life as you've never experienced before.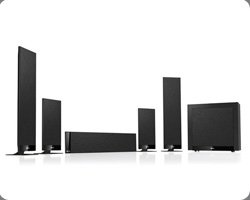 T205 System
If you prefer more frontal 'slam' for movie special effects and a system that generally plays louder, the T205 system substitutes a pair of the larger T301 speakers for the front satellite and centre channel speakers.
For drama as well as music, even in larger loft-like spaces, it has the power to keep everyone in the room on the edge of their seat.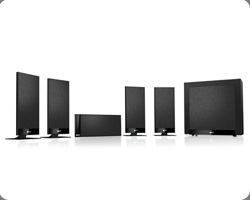 T105 System
With five deceptively compact model T101s as front and rear satellites as well as the centre channel, plus the discreet T-2 subwoofer, the T105 system is powerful enough to fill most normal rooms with a compellingly detailed 3D sound image. As easy to set up as they are on the eye, they make the perfect entry level surround sound system for the latest generation of flat screen TVs.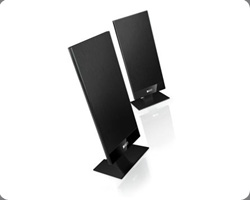 T101 and T101c/T301 and T301c
T101 and T101c Speakers
Mounted vertically as satellites (whether wall-mounted, on the desk stands supplied or the optional floor stands) or horizontally as a centre channel above or below the TV, the standard T Series speaker features KEF's new 115mm (4.5in.) ultra-low profile bass and midrange driver paired with the high performance new 25mm (1in.) vented tweeter.
T301 and T301c speakers
In the larger models, the same high performance 25mm (1in.) vented tweeter is paired with two 115mm (4.5in.) ultra-low profile bass and midrange drivers for an even bigger sound.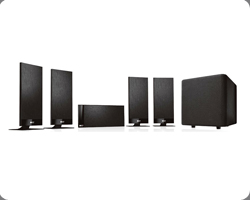 T100 System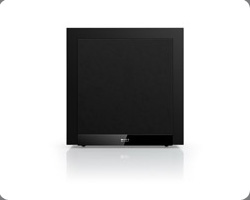 T-2
A slimline closed box design, the assertive T-2 subwoofer completes the 3D sound image by adding definition and weight to the LF response.
Easy to conceal and operating in the same phase as the speakers for perfect integration, it delivers fast, uniformly dispersed and devastatingly accurate bass.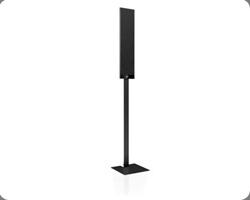 Stands
There's the option of elegantly simple extruded aluminium floor stands styled to match your T Series speakers — and by automatically rebalancing the output for wall or desktop mounting, the Selecta-mount(tm) system cleverly concealed in each stand gives you complete freedom of positioning without compromising sound quality