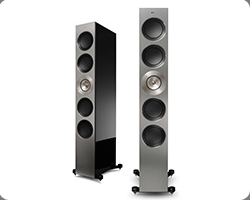 Reference 5
Magnificent is the only word. KEF's passion for perfection embodied in a tall three-way floorstander that aligns four powerful, extremely linear 165mm (6.5 inch) bass drivers – two above and two below KEF's latest 125mm (5 inch) MF/HF Uni-Q array, with the sensational new 25mm (1 inch) vented aluminium dome tweeter at the acoustic centre. Lows are reproduced with consummate agility and control, fluidly integrating with the Uni-Q output to create an all-enveloping soundfield of spine-tingling accuracy and depth. For music or film, it reveals subtleties you'd never noticed while gripping your emotions with the full power of the performance.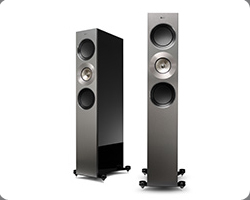 Reference 3
Same DNA, more modest dimensions – and the same uncanny ability to generate an intricate, totally natural-sounding 3D soundstage. The two 165mm (6.5 inch) bass drivers are positioned perfectly above and below KEF's latest 125mm (5 inch) MF/HF Uni-Q driver array in a D'Appolito configuration. Fidelity across the midrange and treble is outstanding, and the transitions imperceptible. And with Uni-Q's broad inclusive dispersion, everyone in the room can enjoy the same rich, spatially precise acoustic imagery without being restricted to a narrow sweet spot. As well as putting you right at the heart of the original performance, it gives you the soul.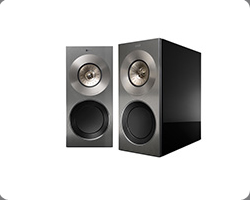 Reference 1
All the jaw-dropping performance and innovative engineering pioneered for the critically acclaimed LS50 studio monitor, and then some. Reference 1 pairs KEF's latest 125mm (5 inch) MF/HF Uni-Q driver array with the sensational new 165mm (6.5 inch) alloy cone bass driver to create a compellingly realistic sound stage out of all proportion to its size. Mounted on shelves or stands, Uni-Q's inherently wide, even dispersion also makes it the perfect rear channel speaker in a home theatre system that effortlessly reveals all the subtleties encoded in modern soundtracks.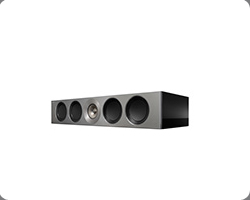 Reference 4c
As the main source of dialogue and vocals, the centre channel is critical to your enjoyment of what's on screen. With KEF's superlative new 125mm (5") MF/HF Uni-Q driver array between four 165mm (6.5 inch) bass drivers, the Reference 4c reproduces every last detail exactly as the director or the artist intended - spatially precise, stunningly clear and with a dynamic range that takes rapid transitions in its stride. For movie buffs looking for total immersion, it's the perfect centre.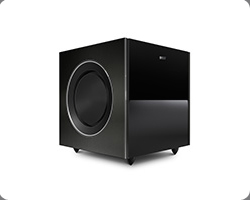 Reference Subwoofer
To experience the full impact of dramatic on-screen effects, bass definition and control are as important as extension. For power with accuracy, the Reference sub boasts two 500W Class D amps, each driving a 228mm (9 inch) long-throw, ultra-low distortion driver, connected back-to-back in the heavily braced, acoustically inert cabinet. Only a truly great subwoofer could do justice to Reference standards of home theatre, and it does.