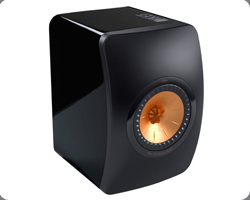 LS50
INSPIRED
What better way to mark 50 years of innovation than celebrate our collaboration with the BBC. Begun in the early 1960s by KEF's founder, Raymond Cooke, the relationship led to the world's greatest compact studio speaker, the LS3/5a. Recognizing KEF's pioneering technology, the BBC asked us to provide cutting-edge drivers and crossovers that were key to its success. Advanced for its time, and designed without limitations, the LS3/5a became known as the ultimate "engineer's speaker". Its latest successor is the LS50.
Together with state-of-the-art technologies from KEF's latest flagship loudspeaker, Blade, LS50 pays testament both to our past and the innovative spirit of today's research and development team.
I was determined to put into practice the many possibilities I could see for improving loudspeakers throguh more rigorous engineering."
Raymond Cooke OBE (1925-1995), founder of KEF
RICHNESS
Unheard of in such a compact design, LS50 delivers a deeply rich, multi-dimensional 'soundstage experience' that is out of all proportion to its size. LS50's bespoke Uni-Q driver array, capable of mastering an exceptional range of dynamic highs and lows, reveals original source sounds typically lost by other speakers. Designed using KEF's cutting-edge acoustic modeling, LS50 is the ultimate mini monitor.
BREAKTHROUGHS
Creating a small housing capable of delivering such a spacious sound is the result of considerable research and development. In cabinet construction, baffle shaping and port design, LS50 breaks new ground with patent-pending technology. All this is made possible by KEF's leadership in modern research (including techniques such as Finite Element Analysis and Computational Fluid Dynamics). LS50's unique technology offers by far the cleanest, most accurate studio-grade performance of any mini monitor.
UNI-Q
LS50 employs revolutionary technology developed for Blade, KEF's latest flagship loudspeaker. Using the very latest Uni-Q driver, specifically designed for this model, LS50 radiates an extremely large listening sweet spot and delivers a remarkably fast, clean sound. And, because LS50 neither adds nor subtracts a single sound, it's effortlessly natural and accurate too.