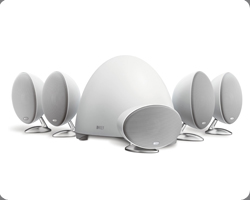 E Series
EXTREMELY E SERIES
Introducing the world's most advanced, high performance home theatre speaker system - featuring a genuine high fidelity sound - that's certain to bowl you over. Compact and elegant, E Series discretely delivers the full entertainment experience.
EXTREMELY ICONIC
Inspired by KEF's multiple award-wining 'egg' design, that revolutionized home entertainment with its rich, spacious and realistic 3D sound imagery, the new E Series packs uniquely advanced technologies in highly distinctive compact satellite speakers and a potent new powered subwoofer subtly styled to match. Available in deep black or pure white, the silky matt finish is complemented by satin chrome cast aluminium bases that simply rotate to form wall brackets. Bespoke optional floor stands are also available.
EXTREMELY ACCURATE
As you'd expect from a brand with an unrivaled 50-year record of innovation in pursuit of the purest, most accurate sound reproduction, the E Series has all the acoustic integrity and exceptional dispersion characteristics of its legendary predecessor; and then some.
With the new 4.25" Uni-Q driver array derived from the award-winning Q Series, it elevates home theatre audio to a new level of performance and enjoyment. For very large rooms or the ultimate surround sound experience, the system can easily be upgraded with additional satellites to a 7.1 configuration.