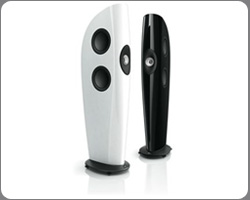 Blade
When we gave our engineers free rein to create a fitting showcase for our technology leadership, they developed a revolutionary prototype that looked and performed like no other: Concept Blade, the world's first single apparent source loudspeaker.
Its phenomenal sonic capabilities met with such praise that we decided to produce an edition that serious audiophiles could actually own. After two years of painstaking refinement — and in time to mark 50 years of KEF innovation — Blade is the result.
Conceived from the outset to extend the boundaries of high end audio, it's a unique synthesis of innovative engineering and groundbreaking design based on a new architecture that achieves the ideal point source to which all speakers aspire. This is because the four sophisticated new bass drivers are configured so that their combined acoustic centre occupies exactly the same point in space as that of the Uni-Q HF/MF array, so the sound appears to emanate from a single, flawlessly coherent source.
Sculptural and acoustically inert, the slender parabolic enclosures are engineered never to interfere with the purity of the output. The advanced new hybrid cones are so light and rigid that their natural break-up point is never reached within the required frequency range. Inside, you find ingenious new venting, bracing and wave management technologies. Meticulously specified, super-premium components — every one operating so comfortably within its performance envelope that you experience noticeably more precise imaging than is possible with conventional speakers. What you hear sounds as if it's live — emotionally engaging, richly musical and effortlessly natural. A revelation, pure and simple.