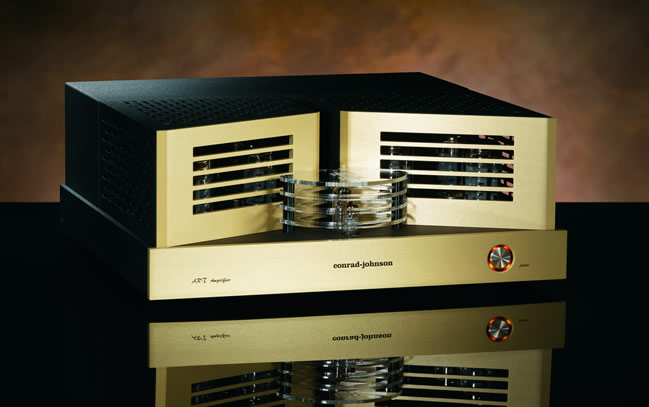 ART and ARTsa Vacuum-Tube Power Amplifier
The limited edition ART Amplifier is designed to be a reference amplifier for the use of industry professionals as well as dedicated audiophiles. Like its companion GAT Preamplifier, the ART Amplifier will be offered in an edition of just 250 units (125 pairs) to be sold through selected conrad-johnson dealers and distributors. Those who do not need the prodigious 275 watt power delivered by the mighty ART mono-blocks will want to consider the ARTsa Stereo Amplifier. Nearly identical cosmetically (one more tube in the front), it is exactly an ART amplifier divided into two channels, each producing a solid 140 watts.
At conrad-johnson, our approach to circuit design is predicated on the principle that the surest path to both state-of-the-art musicality and exceptional reliability is simple circuits constructed of the finest available parts. These ART amplifiers exemplify this basic principle. The audio circuit has just three elements, each as simple as possible, and each essential to the operation of the amplifier. A voltage gain amplifier (a single triode) is direct-coupled to a cathode coupled phase inverter (each phase handled by a single triode), which in turn drives the output stage. For the ART mono-blocks, four pairs of KT120 output tubes, chosen for their musical accuracy, high power, and reliability, endow this amplifier with a muscular 275 watt output rating. For the ARTsa, two pairs of KT120 output tubes in each channel produce 140 watts of power per channel. A small amount (about 12 dB) of loop negative feedback reduces distortion and achieves a sufficiently high damping factor to control the reactive load typically presented by high-performance loudspeaker systems. To assure continued peak performance, the owner need only make a simple bias adjustment when new tubes are installed. Built in LED bias indicators allow the user to make this adjustment using only the supplied screwdriver.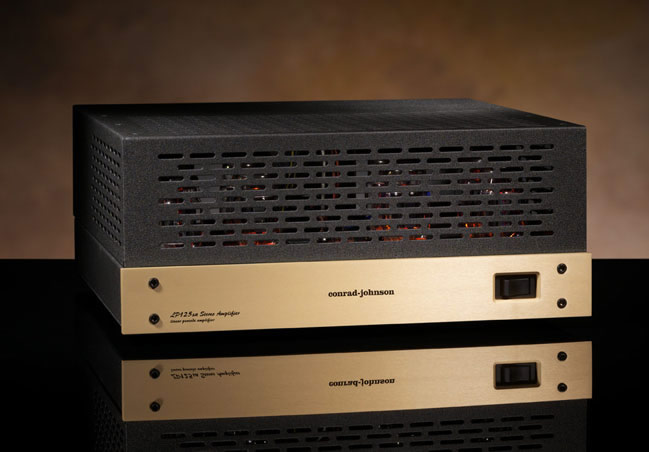 LP125sa Vacuum-Tube Stereo Power Amplifier and LP260 Vacuum-Tube Mono Power Amplifier
The LP125sa Stereo Amplifier and LP260m mono-block are the latest in the highly regarded series of conrad-johnson vacuum-tube power amplifiers. The LP125sa offers a compelling combination of the audio excellence one expects from conrad-johnson, the convenience of a single stereo chassis, and, at 125 watts per channel, sufficient power for the majority of high-end speaker systems. Those with more demanding speaker systems will want to turn to the LP260m mono-block powerhouse, rated at 270 watts. Both amplifiers are capable of capturing the delicate textures and subtle nuances of live music while maintaining control with the authority that comes with ample power.
Nearly identical in both models, the audio circuit consists of three stages. The input signal is amplified by a single-ended triode amplifier designed for wide bandwidth. The signal is then direct coupled to a cathode coupled phase-inverter. This high current, triode phase-inverter stage provides a balanced, low impedance drive to the output stage. Output power is developed by KT120 power tubes (two pairs per channel in the LP125sa, four pairs in the LP260m), chosen for their excellent sonic character, high power capability, and reliability. The output tubes are operated in ultralinear configuration which offers a desirable combination of high power and low distortion. Massive output transformers with intricately interleaved windings afford extended bandpass and high phase linearity. A small amount (about 12 dB) of loop negative feedback reduces distortion and achieves a sufficiently high damping factor to control reactive loudspeaker systems.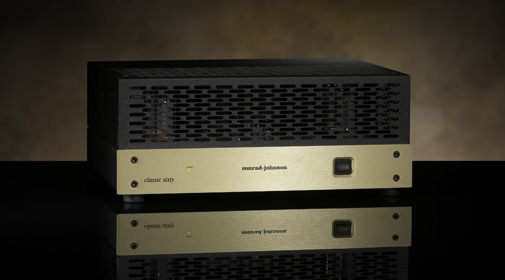 Classic Sixty Vacuum-Tube Amplifier
Tasked with developing the most cost effective amplifier that we could build, consistent with our standards of quality of construction and performance, the conrad-johnson design team turned to our flagship product for inspiration. Borrowing heavily on the technology of its big brother, the ART amplifier, the Classic Sixty preserves the distinctive tonal character of individual instruments and voices, with each clearly located within the overall acoustical environment of the original recording. Musical transients are reproduced with realistic impact, but without artificial enhancement. Like its more costly siblings, the Classic Sixty captures the emotional impact of the live event, never getting between the listener and the musical performance.
The Classic Sixty offers an ideal introduction to the joys of modern tube amplifiers, while the ease of use, low maintenance costs, and reliability will be a revelation for those who have only experienced "entry-level" tube gear. Those who wish to take the experience a step further will want to investigate the upgraded Classic Sixty SE, which upgrades the output tubes to KT120s and incorporates CJD Teflon Capacitors and ultra high-performance metal foil resistors in strategic applications in the circuit. Either model is sure to rekindle your passion for enjoying great music in your home.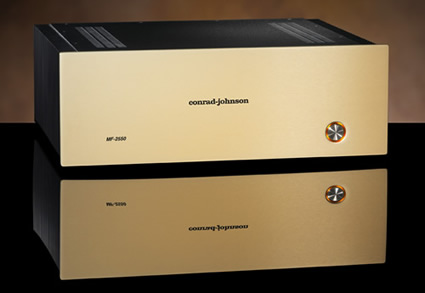 MF2550 and MF2275 Solid State Amplifiers
Our latest solid-state amplifiers, the MF2550 and MF2275, nicely embody this approach. Differing primarily in power output rating, these amplifiers share a common circuit design. High voltage FETS permit highly linear operation of the critical first voltage gain stage, while bi-polar transistors are used to configure an output stage with low output impedance to deliver maximum current to reactive speaker loads.