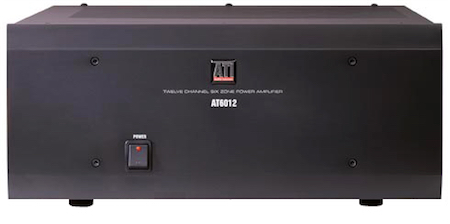 AT6012 Series
Frankly, ATI's AT6012 amplifier was designed for use in high-performance multi-room systems where performance, accuracy and reliability were requisite. With 60 watts RMS available full-band with all 12-channels driven into 8 ohms loads and 90 watts x 12 available at 4 ohms, and all of the hallmarks that make ATI special; MOH toroidal transformers; double-sided glass-epoxy circuit boards; independent power supplies for each channel; optically coupled protection circuitry; etc., the AT6012 makes a grand statement in a grand home.
At least that was our thinking until Siegfried Linkwitz, scientist and audiophile (and eternally famous in audio circles for the Linkwitz-Riley crossover), designed his state-of-the-art tri-amplified Orion speaker system and recommended the AT6012 as its perfect powered accompanist. So we've changed our thinking. While the AT6012 can be used for high performance, multiroom audio, its quality level is so good it can also be recommended for high performance audiophile speakers. The choice is yours.
Unlike other multi-room amplifiers, the AT6012 is designed to provide up to six rooms of sound with no additional multi-room audio electronics required. Each channel pair of the 6012 has its own high-quality motorized volume control. Add six up/down switches (like the Leviton 5657-2E or other single pole, double-throw, center "off" switches) to achieve independent volume control for each room.
The AT6012 is the perfect solution for those multi-room sound installations requiring the utmost in flexibility, reliability and audiophile quality sound. This 12-channel, 6-zone power amplifier incorporates the same legendary sound and design criteria as our other award winning amplifiers-without exception. The AT6012 consists of six 2-channel modules and each zone's volume (gain) can be remotely adjusted. While elegant in concept and design, the AT6012 is rugged and will withstand the rigors of even the most demanding requirements. Critical components such as toroidal transformers and circuit boards are manufactured and assembled in our own factory, guaranteeing consistent quality control. Features including DMC (Detachable Modular Component), Remote-Power-On and our Isolated Optical Protection Circuit are but a few of the advanced design concepts that add up to make ATI amplifiers the best value in the industry. Circuitry in the AT6012 is totally complementary from input to output using dual-differential input stages. Pre-drivers then drive the full-complementary output stage.